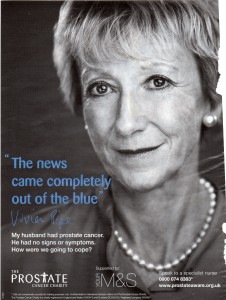 is here.
Here's an advert from their sponsors, Marks and Spencers.
You'll note that it says "My husband had prostate cancer. He had no signs or symptoms. How were we going to cope?"
This sounds suspiciously like screening (although it may mean that he had no prostate signs or symptoms, but e.g. metastatic symptoms. I don't know.) We know that screening for prostate cancer using PSA blood tests doesn't work. Richard Albin, discoverer of PSA, has written that it's no more effective than a coin toss. (There's lots about this in my book.)  The last time I criticised the use of women as a means to PSA awareness, an editorial in 'Prostate Cancer and Prostate Diseases' came back, saying "it is hard to see the harm in providing the public with more information " – well, if it leads to more men being screened, it's  hard to see that harm wouldn't be created.
The problem with this advert is that, whether they intend to or not, they create fear that a symptom free person may have prostate cancer and that screening will help. The chief executive of the Prostate Cancer Charity told the Guardian in 2010 that "every man over 50 who doesn't have symptoms of prostate cancer is entitled to ask his GP for a PSA test. Yet, 70% of men aged 50-70 don't even know that the test exists, let alone their right to request it".  Back to Albin, who writes from the US: " Testing should absolutely not be deployed to screen the entire population of men over the age of 50, the outcome pushed by those who stand to profit. I never dreamed that my discovery four decades ago would lead to such a profit-driven public health disaster." Of course, we have plenty of private clinics here in the UK pushing the screening agenda too.
I can only conclude that awareness campaigns are very bad for our health.